Ear Care
Inspecting and cleaning your dog's ears
on a regular basis is an important part of your dog's overall health and comfort care needs. Routine inspection and cleaning is the perfect opportunity to find potential ear health problems.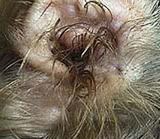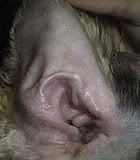 Dogs with smooth or flat facial hair or dogs with a rose or prick ear set will generally require a weekly swabbing with the high quality, oil free Kelco Zap ear cleaner to promote good ear health. Dogs with button or drop ears will require more frequent attention as the ear leather covers the ear opening and can inhibit air flow in and around the ear canal creating the perfect environment for developing bacterial or yeast ear infections. Dogs naturally growing profuse facial hair will generally have heavy hair growth in the ear canal. As shown in the image to left. The gentle removal of hair from in and around the the canals, as shown in the image to the right, will allow for air flow and will help to keep ears dry and healthy. Read Karla's article on
Caring for Your Dog's Ears
to learn more about the tools and techniques needed for good ear health. Bilateral, chronic ear infections are usually a symptom of seasonal, contact or food allergies or a more serious health condition so be sure to call your vet if you notice any changes in your dog's ear health in the way of unusual odor, redness, swelling, excess wax or discharge.